Floriani Commercial Digitizing Steps For Success
Unleash your full creativity by learning how to digitize your own designs with the help of a new book written by master digitizer D.J. Anderson. "Digitizing Steps For Success," which Anderson wrote under the guidance of Walter Floriani, allows you to learn at your own pace one step at a time.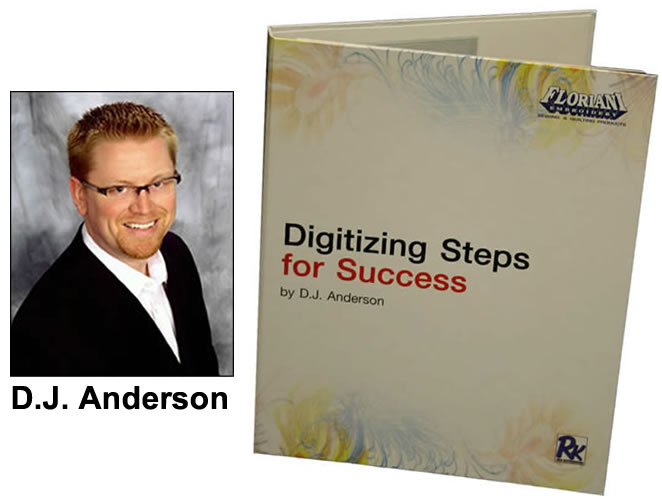 To achieve top quality and ensure trouble-free sewing, digitizing must be done in a certain sequence. When done out of sequence, the digitizer has to go back to make changes. In this new book, Anderson walks the reader through each component of the embroidery digitizing process in the correct order, which eliminates having to make changes later. Instead of using a trial-and-error method, you learn how to do it right the first time.
He discusses more than 60 types of fabrics and the rules for each stitch type including run, satin, and fill. You will get answers to the most commonly asked questions such as which stabilizer should I use? Why are there gaps between objects? Why is my design hard and stiff? How do I determine the proper underbase and density?
In addition to the book, you receive a four-DVD set with more than four hours of step-by step tutorials that go over all the fundamentals. Another CD includes more than seven hours of training on Floriani Total Control Professional software.
My goal in writing this book is to help embroiderers see how beautiful their embroidery can be with just a little bit of knowledge. I have learned from Walter Floriani that digitizing is an art that anyone at any age can learn and master as long as they have the passion." says Anderson.