Floriani Commercial Firm Tearaway Heavy
1.8oz Tearaway
Floriani Tearaway Heavy removes cleanly to speed production and features a non-stretch, stable foundation. It can be used on most weights of woven fabrics with excellent results. Because it's made of top-quality materials using the wet-laid-non-directional process, only one layer is needed for most projects.
Floriani Tearaway Heavy is easy to use. Once you've cut the appropriate size, it is hooped to the wrong side of the garment and stitched. Then securely tear away the excess edges from around the embroidery.
Ideal when stitching dense or large designs.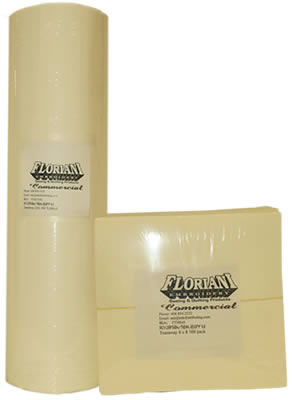 .
Available Colors & Sizes:
Available in White

8 x 8 Pre-Cut

WFTH8x8
23" x 100yds Roll

WFTH23100
Customer Reviews
Has the best tear away clean edge.
I love the 23" x 100 yards roll. It is the perfect size when hooping caps on the Brother PR 1000e. And it tears away clean leaving the inside of the cap in perfect condition.