Floriani Commercial Firm Tearaway Ultra Heavy
2.5oz Tearaway
Tears away cleanly to speed production and features a non-stretch, stable foundation. It can be used on any weight of woven fabrics with excellent results. Because it's made of top-quality materials using the wet-laid-non-directional process, only one layer is needed for most projects. This high-fiber content tearaway is ideal for hats/caps or dense embroidery.
Floriani Tearaway is easy to use. Once you've cut the appropriate size, it is hooped to the wrong side of the garment/item and sewn. Then securely rip off the excess edges from around the embroidery.
Enjoy the ease of use with our convenient 4" width pre-cut's or jumbo roll for hats/caps.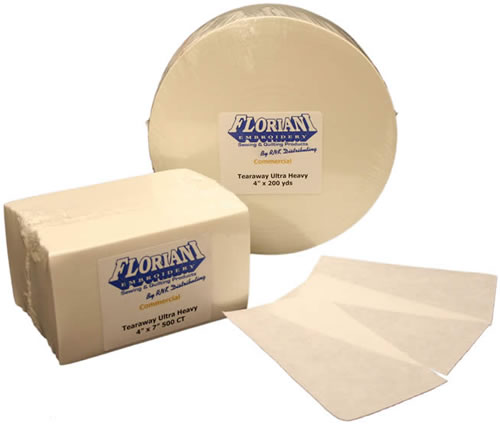 Available Colors & Sizes:
Available in white

4" x 7" Pre-Cut

WFTUH4x7
4" x 200yds Roll

WFTUH4200
23" x 100yds

WFTUH23100